It can be challenging to choose between a new or used car. Though new cars are very tempting, a used car can give you all you are looking for without the hefty price tag. CarSMART helps make the process of purchasing a used vehicle stress-free and straightforward. Let's look at why you should buy from CarSMART and some of the advantages of buying a used car.
Who Is CarSMART?
CarSMART is a used-car dealer that focuses on getting you into the car of your dreams with as little headache as possible. Our streamlined process allows you to have the best possible car buying experience available. When you decide to purchase your next vehicle from CarSMART, you are sure to be impressed with our customer-centered approach.
Why Buy From CarSMART?
Three core principles guide how CarSMART handles used car sales:
Fair, upfront, and market-based pricing.
Vehicles that have been vetted.
A transparent and simplified sales process.
Pricing is one of the most elusive concepts when it comes to negotiating for a used car. Kelly Blue Book may be the standard by which most used vehicles are priced, but most used car dealers aren't willing to make this information readily available to their customers. Therefore, CarSMART makes it a point to offer only the best possible price for the vehicle you are interested in.
The CarSMART price derives from a state-of-the-art software system. This system examines the surrounding pre-owned vehicles market and compares the mileage, year, quality of certification, and equipment of similar vehicles to the one you are looking to purchase. Once this information is analyzed, we adjust our prices to reflect the best available value on the market. All of this is done upfront, and in plain view, so you can see firsthand that you are indeed receiving the best deal on the car you want.
Purchasing a used car, truck, or SUV can be daunting when the quality of the vehicle is questionable. At CarSMART, every car is hand-picked, undergoes a comprehensive inspection, and comes with a complimentary lifetime powertrain warranty. This allows you to rest easy when purchasing your next vehicle from CarSMART, and you can trust you are getting only the best quality used cars on the market.
In today's market, the used auto sales process has become convoluted and feels more like an interrogation than a negotiation. You are poked, prodded, and pushed to pay the maximum price for the vehicle in question. At CarSMART, you will enjoy a pleasant experience that won't leave you exhausted and questioning your decision. You will only have to interact with one salesperson, and the entire process will be transparent, saving you valuable time and giving you peace of mind that you are making the most informed decision possible.
Let's recap. At CarSMART, you will receive upfront market-based pricing, have a choice of only the best quality used vehicles, and have a transparent car buying process that is simple and stress-free. What else could you ask for when looking to purchase your next used vehicle? So take advantage of CarSMART's customer-centered approach and take home the used car, truck, or SUV of your dreams today.
Advantages of Buying a Used Car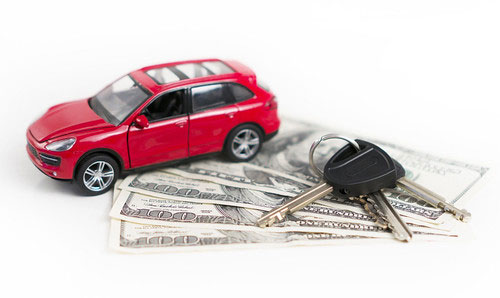 Image via Flickr under CC BY 2.0 by free pictures of money
New cars are nice, but you can find a used car that's just as nice and has all of the features you want. You could even get a used car with more features for less than paying for a base-level new car in many cases. These are only two of the many things you may want to consider when purchasing a used vehicle.
Depreciation is one of the biggest pitfalls when purchasing a new car, as they typically lose up to 20% of their value when driven off the lot and another 10% within the first year. This equals up to 30% of depreciation that you can easily avoid by purchasing a used vehicle that is only 1 year old. Unfortunately, 1-year-old cars can be hard to come by, but the used car market is experiencing an increase in used vehicles in the 2- to 3-year-old range.
Whether you have the budget to purchase a new car or not, you can save money when buying a used car. Even vehicles with up to 100,000 miles shouldn't be dismissed, as modern era cars are becoming more capable of reaching up to 200,000 miles. In addition, automotive manufacturers are no longer redesigning their vehicles for every model year, so there is less of a stigma regarding the purchase of a car, truck, or SUV that's a few years old. This means that it is less likely your neighbors will be able to distinguish whether you bought a new or used vehicle.
Another way a used car can save you money is by reducing your automotive insurance costs. One of the most crucial factors every insurance company uses to determine how much your car's insurance will cost is its value. The higher the value, the higher your insurance rates will be. Therefore, by purchasing a used vehicle with less value, you will also have lower insurance costs, saving you more money over time.
The risks of purchasing a used car with many issues have also declined in recent years with the help of companies such as AutoCheck and CARFAX. These companies offer vehicle reports linked to the vehicle identification number (VIN) of a car, truck, or SUV. Sensitive information you can gather from these sources includes if the vehicle in question was ever filed as a total loss by an insurance company, verification of the mileage, accident reports, etc.
Another way to be assured of your used car purchase is to take advantage of certified pre-owned cars. These vehicles undergo a thorough inspection and have to stand up to the manufacturer's stringent standards. In most cases, certified pre-owned cars offer guarantees against defects, preferred interest rates, and better warranties.
Let CarSMART's professional customer service associates guide you through the process of finding a used vehicle that suits your wants and your needs. You are sure to have a pleasant used car buying experience not found anywhere else and can rest assured that the vehicle you decide on is in tiptop shape. In addition, professional customer service agents are available online and in person to serve your needs and get you into your next used car, truck, or SUV.
Car Kevin Hours
| | |
| --- | --- |
| Monday | 9:00AM - 6:00PM |
| Tuesday | 9:00AM - 6:00PM |
| Wednesday | 9:00AM - 6:00PM |
| Thursday | 9:00AM - 6:00PM |
| Friday | 9:00AM - 6:00PM |
| Saturday | 9:00AM - 4:00PM |
| Sunday | Closed |